AC Repairs & HVAC Maintenance

Harwich, MA, Barnstable, MA, Yarmouth, MA, South Dennis, MA, Dennis, MA & South Yarmouth, MA

Murphy's is a full service plumbing, heating, and air conditioning company with a reputation for unsurpassed quality, comfort and service throughout Cape Cod. Murphy's maintains an ongoing commitment to provide high-quality products and consistently exceptional customer service. From the beginning, honesty, integrity and fair business practices have earned us the confidence and respect of the community.
"At Murphy's, our mission is to improve your overall home comfort and indoor air quality and save you money on your energy bill. Your complete satisfaction always comes first, period."

-Christopher R. Liberty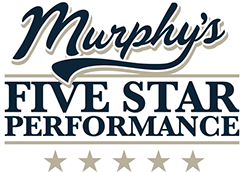 Murphy's is dedicated to upholding the highest level of service and installation, providing exceptional Five Star Performance on each and every project — large or small.
Exceptional Customer Service
From the first time you call Murphy's to the processing of payment, we go out of our way to make everything as convenient as possible for you!
Highly-Qualified Technicians & Plumbers
All of our technicians and plumbers are factory trained, and qualified on all brands of heating, air conditioning, plumbing, and refrigeration equipment.
Punctuality & Professionalism
Our technicians are trained to arrive promptly to any service call, and get the project completed in a timely and efficient manner.
Safety, Security & Cleanliness
The safety and security of your family and your possessions is our highest priority. For this reason, all our employees receive background checks before hiring, and our techs carry cover clothes and vacuums to make sure your house remains clean.
100% Satisfaction Guaranteed
To maintain the highest level of service in the industry, Murphy's provides a written guarantee for 100% Satisfaction on all service and equipment installations.
Mission Statement
Building lifelong customer partnerships one exceptional experience at a time.
Core Values
We deliver excellence by:
Meeting or exceeding goals by measuring results
Providing career-long learning and development for every employee
Being open to new ideas and striving for continuous improvement in everything we do
Promoting leadership at every level by putting the team first
We achieve balance by:
Putting family first, both your own family and our work family
Taking care of our mental and physical health
Making the workplace fun and inclusive
Always supporting our local community
We act with integrity by:
Always doing the right thing
Upholding quality and accountability ahead of profit
Establishing clear expectations and keeping our word
Treating colleagues, customers, and suppliers with equal respect and honesty
We trust & respect each other by:
Always listening before taking action
Giving safe and direct feedback
Showing empathy and always providing support
We are a Bryant Factory Authorized Dealer
When choosing a dealer, look for the Bryant Factory Authorized Dealer symbol, which means your dealer has met the highest standards for superior skills, service, and a promise of 100% satisfaction guaranteed.*
Bryant dealers are highly trained to listen and respond to meet your needs. This training, along with the latest products and technology allows them to deliver the most up-to-date home comfort solutions. Dealers participate in special training throughout the year to provide solutions, installations and services to satisfy you, the homeowner.
We service all Brands

Murphy's Air Conditioning, Heating, and Plumbing
July 30, 2018
2021/12/06